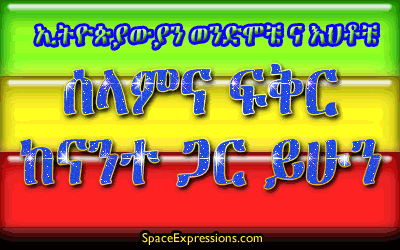 Amharic (ኣማርኛ)
Amharic is a Semitic language and the national language of Ethiopia. There are about 27 million speakers of Amharic, mainly in North Central Ethiopia. Amharic is also spoken in a number of other countries, particularly in Eritrea, Egypt, Israel and Sweden.

Amharic is written with a version of the Ge'ez script known as ፊደል (Fidel). There is no standard way to transliterating Amharic into the Latin alphabet. Amharic is named after the district of Amhara, which is thought to be the historic centre of the language.
Amharic pronunciation
Consonants

Vowels
The Ge'ez (Ethiopic) script for Amharic
Punctuation

Numerals
These numerals developed from the Greek alphabet, possibly via Coptic.


Sample text in Amharic

Transliteration
Yä-säw lïj hullu siwwäläd näs'a-nna bä-kïbrïnna bä-mäbtïm ïkkulïnnät y-alläw näw yä-täfät'ro yä-mastäwalïnna hïlinaw sïlalläw andu lelawn bä-wändïmamacïnnät mänfäs mämälkät yä-gäbbawal.

Listen to a recording of this text by Zaynaba Nuru

Translation
All human beings are born free and equal in dignity and rights. They are endowed with reason and conscience and should act towards one another in a spirit of brotherhood.
(Article 1 of the Universal Declaration of Human Rights)

Longer sample text in Amharic (Tower of Babel)

Amharic language learning materials
Links
Free Ge'ez fonts
http://www.ethiozena.net/info/faq.html
http://www.geezsoft.com/home/
http://www.punchdown.org/rvb/email/UniGeez.html

Information about the Amharic language
http://en.wikipedia.org/wiki/Amharic_language

Amharic-English dictionary
http://www.amharicdictionary.com

Online news and radio in Amharic
http://www.ethiozena.net
http://www.ethiopianreporter.com
http://www.voanews.com/horn/amharic_audio.cfm
http://www.dwelle.de/amharic/
Other languages written with the Ge'ez script

http://apps.facebook.com/habesha/?ref=mf


Writing By teddy ortewodros mulugeta
I will be apload soon! more!
Numbers
| | | |
| --- | --- | --- |
| English | Amharic | Amarigna |
| One(1) | And | ? |
| Two(2) | Hulet | ? |
| Three(3) | Sost | ? |
| Four(4) | Arat | ? |
| Five(5) | Amist | ? |
| Six(6) | sidist | ? |
| Seven(7) | Sebat | ? |
| Eight(8) | Simnt | ? |
| Nine(9) | Zetegn | ? |
| Ten(10) | Asir | ? |
| Eleven(11) | Asira and | ? |
| Twelve(12) | Asira hulet | ? |
| Thirteen(13) | Asrira sost | ? |
| Fourteen(14) | Asira arat | ? |
| Twenty(20) | Haya | ? |
| | | |
| | | |
| | | |
| | | |
| | | |
| | | |
| | | |
| | | |
| | | |
| | | |
| | | |
| | | |
| | | |
| | | |
| | | |
| | | |
| | | |
| | | |
| | | |
| | | |
| | | |
| | | |
| | | |
| | | |